Let me tell you about two short films: Familiar and Worm. Both are produced by Fatal Pictures,  both are written and directed by the same man, both share the same main actor and both are really worthy of seeing and amazing.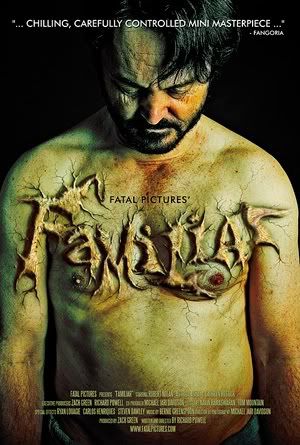 Familiar is a short about the ordinary family, well, that is, at least, what it seems at the beginning. We are dealing with an embittered husband with a really high working mind who cannot stop thinking about how to escape from there. Well, at this point I can imagine you asking yourselves "is she talking about a drama?" No! It is a great horror short! Step by step we discover a real evil personality inside the husband… But I cannot say more… You have to find out!
I really recommend watching this movie, not only because the actors do a great job but also because the special effects are beyond good for a short film, also the idea is a very creative one and the writer and director, Richard Powell, knows how to create tension and keep you in suspense. The voice over technique, which I am not a big fan of, is masterly used here in order to show the world of the unconscious that is behind the man.
Also, if you are a Lovecraft fan you cannot miss it! The Toronto Premiere of Familiar will most likely be this April more details to come soon, as for the rest of the world it will slowly make its way on the film festival circuit. Its been submitted to a few film festivals more, and Mr. Green the producer has promised me to give me all the info about the different festivals where it will be shown.
Worm is another surprise, another voice over short that I liked, and that, it is something really weird. We are dealing with another unhappy man, a high school teacher with no motivation but with a great inner life. He looks like an ordinary guy, but he is really bitter inside. This is not the typical horror short we all have in mind when we read the title but an approach to the depths of psychological thoughts. I mean, we are living inside the man's mind and we feel his thoughts, his pain and his bad mood. The actor, Robert Nolan, the same as in Familiar, does a great job, but if in the first one he is main part of the story, in this case he puts all the weight of it on his shoulders, and he is so great that he makes it in the best way possible. As creative as Familiar, and sharing the same starting point or characterization I can say that this one or the other one, depending on which one you watch first, is a turn of the screw of the other. Worm will have its US Television Premiere's on American Horrors on February 14th, I was said to contact your TV provider to find out how to subscribe to the channel! A channel, Zach Green, the producer recommend to all of us.
From now on, I am a die hard fan of these three men, and you know what? One of them will be my special guest in next Horror Rises from Spain podcast! Zach Green will be with me on my next show, he, together with Richard Powell created Fatal Pictures in 2007. Consumption (2008) was their first film released under their production company, which went on to win awards and get distribution along with Worm (2010) via America Horrors. For the moment, he is only a producer but he says: "Right now in time I only have an interest in producing but you might see me make a cameo in my next film. I'm sure I will go on to directing at one point but right now I just want to focus all my time and energy in producing our films, FATAL PICTURES'."  When I asked him about how Familiar started he told me: "Well, Familiar first started when me and Richard set out to shoot our next short film, Richard is always thinking of new stories that would translate well into film(s). Familiar happen to be the story we picked. I thought it was fabulous we love to make films that are set in reality. Richard presented it to me and I was definitely intrigued and wanted to learn more about the story. I thought it made for a GREAT short film, so far it sounds like I'm right on that." I couldn't agree more!
So… if you want to know all about these two movies and also about this production company you cannot miss the podcast: Horror Rises from Spain! Soon here and only here for you to listen!
More information about Fatal Pictures here.
---
---
---
---
---
---
---
---
---
---
---
---
---
---
---
---
---
---
---
---
---
---
---
---